George Washington, Landowner
By Bryan Booher
George Washington was many things during his professional career. He was a tobacco Planter, a soldier, and a statesman. What most people do not know is that Washington's first profession was that of a land surveyor, training which enabled him to recognize the value of land during a time when a man's personal wealth was measured in property; livestock and slaves included, but particularly land.
Washington acquired his first property at the tender age of eleven when, upon the death of his father, he inherited the 260 acre Ferry Farm. The land on which the farm sat ran adjacent to a larger estate, which had been given to his older half-brother, Lawrence, whose name today is synonymous with George Washington: Mount Vernon. Washington would eventually acquire Mount Vernon and increase its size threefold, from 3,000 acres to 9,200 acres, as the adjoining land became obtainable.
Using his earnings surveying land, Washington began to buy up land and build his fortune. By the age of twenty-one, he had purchased 1,558 acres of land. At the height of land ownership, according to The Private Life of George Washington,he owned 4,000 acres of the Great Dismal Swamp (located in Virginia and North Carolina), 7,500 acres near the town of Tidewater, and lots in Alexandria, Bath, and Winchester, all of which are located in Virginia, and 23,000 acres in modern-day West Virginia. He also owned 1,000 acres in Maryland, 10,000 acres along the Ohio River, 1,000 acres in New York, 3,000 acres outside Cincinnati, Ohio, 5,000 acres in Kentucky, and 234 acres in Pennsylvania. In all, he held 69,605 acres in 37different areas, 24 city lots, and one city square in his possession.
Washington did not just let the land sit idle and uncultivated. He leased out large portions of land to private citizens for their personal use.Heritage is proud to offer two such indentures at the upcoming December 8-9 Manuscripts Auction #6063 at the Fletcher-Sinclair Mansion in New York.
The earlier of two, dated March 17, 1769, is entirely engrossed in Washington's own hand and bears the signature of the future Founding Father an astonishingtwenty times! The indenture sets forth the terms of a lease of one hundred and fifty acres for seven pounds per year to the farmer Robert Thompson and represents one of the twelve leases written by George Washington on March 17, 1769, in Fauquier County. All twelve contracts involve lots or parcels of land from the George Carter tract which was purchased by Washington in 1767.
The second is dated August 8, 1799, three months before Washington's death,and leases a sizeable amount of land in the city of Alexandria, Virginia, to one Ezra Lunt (and his heirs) for the sum of seventy-three dollars a year. What makes this indenture unique is the addition of the signature of Washington's wife, Martha, as documents bearing both signatures of the first couple are very uncommon. Strangely, this very indenture was cited during the 1833 Supreme Court case Richard M. Scott v. Ezra Lunt's Administrator, "...an action of covenant, instituted in the circuit court for the county of Alexandria, by the plaintiff, against the defendant, to recover sundry annual rents alleged to be due from the defendant's testator to the plaintiff, under a deed executed by General George Washington and wife, of the one part, and the defendant's intestate, on the other part, by which a lot of ground, in the city of Alexandria, was conveyed to Ezra Lunt, his heirs and assigns, subject to the payment of an annual rent of $73, payable to General George Washington, his heirs, executors and assigns, on the 8th day of August in each year. The deed was made upon the 8th day of August 1799..."
Reference: Francis Rufus Bellamy. The Private Life of George Washington (New York, 1951); Reports of Cases Argued and Decided in the Supreme Court of the United States (New York, 1883).
ABC to air The Great Big American Auction with Ty Pennington & Heritage, Thursday, Dec. 8
ABC has announced that it will air The Great Big American Auction, in a very special television first made-for-TV auction event, at 10 p.m. (ET) on Thursday, Dec. 8. The show will star Ty Pennington of Extreme Makeover: Home Edition, one of America's leading reality TV personalities, and feature exclusively Heritage Auctions' experts, auction services and staff.
The special was produced by Cineflix (Auction) Inc. for ABC. Executive Producers are Lisa Levenson, Ty Pennington, Joe Houlihan and Simon Lloyd.
Ty Pennington has been transforming people's homes and lives for several years now as the host of ABC's Extreme Makeover: Home Edition and has now found an exciting new way to change lives by turning their memorabilia and assorted hidden finds into treasures worth life-changing amounts of money.
After scouring flea markets, cellars, attics and yard sales to find one-of-a-kind items whose owners have no idea of their real value, Pennington, with a team of experts from Heritage Auctions, tags the best items and brings them to The Queen Mary oceanliner in Long Beach, CA for The Great Big American Auction. The exceptional collectibles range from first edition classic comic books to rare American currency to an early 20th century baseball icon's checkbook, and much more in-between, all chosen for their rarity, value and the uniqueness of the consignor's story.
"It's a great thrill to be part of this major network, prime time show, to work with Cineflex and ABC and a star the magnitude and class of Ty Pennington," said Greg Rohan, President of Heritage Auctions. "We went to great lengths with our staff and experts to make sure that all these unique items have great stories and that they live up to Heritage's exacting consignment standards. We hope that everyone will enjoy the show as much as we enjoyed being a part of it."
Objects originally bought for mere dollars, or literally plucked right out the trash will go for thousands of dollars as their lucky owners' lives are changed for the better.
The Great Big American Auction will air on Thursday, Dec. 8 AT 10 P.M. (ET) on The ABC Television Network.
Heritage Auctions is always seeking "consignments with a story" for possible future TV projects. If you think you might have a unique item and a unique story, please let us know.
Space Medals Strong in Recent Space Exploration Auction
by Michael Riley
By now, most everyone will have heard the news about our very successful Space Exploration Auction #6075, held last Wednesday at our Dallas headquarters. Key pieces from the personal collections of our nation's space heroes sold for astronomical [sorry] prices. One area of space collecting that seems to be growing in popularity (and prices realized) each auction are the various "official" medals produced for the flight crews, starting with the Gemini missions.
A company known as Fliteline produced the medals that were flown on each of the ten manned Gemini missions,as well as for the never-launched Apollo 1. In this auction, we offered a Gemini7-flown medal in the gold color for $2,270, our highest realized price for such a piece since April 2009. Bidding was furious on the two Apollo 1 Flitelines consigned by the widow of Roger Chaffee. The silver-colored example sold for $3,585, while the gold-colored version reached $5,377 (both Heritage records). More information on this series of medals can be found in this article on our website by expert Howard Weinberger
Beginning with Apollo 7, The Robbins Company took over manufacture of the crew's souvenir medals. Again, prices were strong on these popular serial-numbered, sterling silver medallions. Rusty Schweickart's flown Apollo 7 sold for $4,780 (a Heritage record price for this flight). There were 300 medals flown on Apollo 8, man's first trip to the moon. We offered two in this auction, one from Apollo 8 CMP James Lovell, and one from Rusty Schweickart. The Lovell example sold for $17,925,considerably more than the other, proving that discerning collectors are willing to pay more for medals owned by the crewmembers of the particular flight. This same situation arose with the two Apollo 13 medals from the same sources. Commander Lovell's piece also sold for $17,925, considerably higher than the second example. Both of these were record Heritage prices. Further evidence of this phenomenon is that Schweickart's Apollo 9 medal in this auction was the first we've ever offered directly from an Apollo 9 crewmember; it sold for $7,767, a multiple of any price we've previously achieved for that mission. Other flown Robbins medallions that set Heritage prices realized records in this auction include the following: an Apollo 10 that sold for $15,535; an Apollo 12 that sold for $11,950; and an Apollo 15 that sold for $28,680. Our Senior Space Consultant Howard Weinberger has authored two excellent reference books on the Robbins medallions: The Robbins Medallions- Flown Treasure from the Apollo Space Program and Collecting the Robbins Medallions — Flown Treasure from the Manned Space Programs. Both are must-haves for the serious collector. Howard has copies of both books available; e-mail me for information on how to order them.
Franklin Mint also produced commemorative medals for two of the Apollo flights. The Apollo 13 version did not fly; a PF64 Ultra Cameo (NGC) example from mission Commander Lovell's collection reached a Heritage record price of $2,390. This is one of the only original items available that has the names of the original crew, including Mattingly who was replaced at the last minute. The Apollo 14 Franklin Mint medal we offered from mission Lunar Module Pilot Edgar Mitchell sold for $7,767 (another Heritage record). Two more examples of the strength of crewmember-owned medals. For further reading, we have a detailed article on these Apollo 14 Franklin medals by Howard Weinberger available on our website.
Our next Space Exploration auction will take place in late spring of 2012. It's never too early to get in your consignments. Contact John Hickey (extension 1264) with a list of your items.
Pleasant Surprises in Recent Americana & Political Auction
by Don Ackerman
Although it wasn't quite a record-breaker, our Fall 2011 Americana & Political Memorabilia Auction #6066 did very well by anyone's standards. The total sales amounted to $1.55M with a 94% sell-through rate. We expect prices realized at auction to vary from one auction to the next. Auction estimates can sometimes be way out of kilter. Still, some of the prices achieved had us shaking our heads. Perhaps we should "expect the unexpected." Here are some examples:
A very colorful and rare Zachary Taylor Bandanna had a vertical split down Taylor's portrait, yet sold for $20,315. Two other items with a "flag motif" performed well. Theseincluded a fragment of the original "Star Spangled Banner" which made an [old] glorious $38,837. A 36-star Civil War-era flag with the stars arranged in a "lazy shield" pattern fluttered away for $17,925.
We are not surprised when Lincoln material performs well, but the rare 1860 campaign ribbon with an applied salt print photograph by William Marsh had us rattled, nonetheless. It appears to be the only known example of this design, but had some significant condition issues. Still, the likelihood of finding another is pretty remote, as reflected in the final price of $10,157 (Hurrah for Honest Abe!).
Three lots of Andrew Johnson impeachment tickets made us blink. With a collective low estimate of $2,700, the three lots (38143 through 38145) sold for $8,900 with the U.S. Senate pass achieving a record $4,481.
Some other "zingers" included the last rocking chair John F. Kennedy sat in prior to his assassination ($65,725), the Mathew Brady camera ($65,725) and a Franklin Pierce clothing button in the Non-Floor Session (estimated at $400-$600, sold for $2,629).
It was a lot of work putting the auction together and a lot of fun. Plus, these are the type of surprises we like. As always, we need material for our May 2012 auction and would love to hear from you concerning possible consignments. Contact me Don Ackerman (extension 1736), or Tom Slater (extension 1441). We'd love putting a smile on your face!
Weekly Internet Rare Books and Autographs Auction Highlights
Since March of this year, Heritage Rare Books department has been hosting weekly rare book and autograph auctions online at www.HA.com/Books. The sales have been going strong, and we invite you to check out the offerings each week as the auctions continue. Each Thursday at 10:00 PM, Heritage closes one weekly rare books and autographs auction and opens the next week's.
Don't miss the opportunity to find some truly rare and interesting books, each and every one of which opens for bidding at $1, with no reserves. Just below, we've included a handful of past highlights and six lots you might want to look out for that are open for bidding now and close for bidding this coming Thursday, December 8. Please contact us if you have any questions or need more information on any lot in any weekly rare books auction (or any lot in any auction, for that matter). We look forward to hearing from you and hope you find much to add to your collection.
D Magazine Explores our Heritage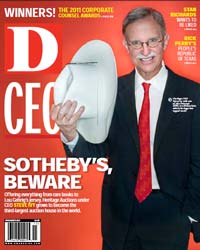 Sotheby's, beware! Offering everything from rare books to Lou Gehrig's jersey, Heritage Auctions under CEO Steve Ivy grows to become the third-largest auction house in the world.
For years the nation's top currency and coin house, Dallas-based Heritage Auctions has used its founders' entrepreneurial prowess to diversify and flourish in recent years—partly at the expense of industry giants Sotheby's and Christie's.
When actor Nicolas Cage decided to unload most of his vast comic book collection in 2002, he used Heritage Auctions in Dallas to execute the $1.68 million sale. In Orlando last year, a 1913 U.S. Liberty head nickel previously owned by Egypt's King Farouk and before that, Los Angeles Lakers owner Jerry Buss (who sold it years earlier for a paltry $200,000), was sold at a Heritage auction for $3.7 million to an East Coast collector.
Read the full article here. (Requires the free Adobe PDF Reader.)
Heritage Auctions Buyer's Premiums For Art, Entertainment, Jewelry, Natural History And Books To Change, Effective Jan. 1, 2012
Heritage Auctions has announced that, effective Jan. 1, 2012, the structure of its Buyer's Premium (BP) will be changing in several of its categories. While 13 of the company's 33 categories will remain at 19.5% or 15%, the rest of the Heritage categories will implement the change.
"We make very careful and considered decisions at Heritage, and this was not one that we came to lightly," said Greg Rohan, President of Heritage Auctions. "Heritage is a major player on the world auction stage, and our BP rates will now be competitive with the rest of the world's key auctioneers."
In the categories of American Indian Art, American Art, European Art, Furniture & Decorative Arts, Illustration Art, Jewelry, Lalique & Art Glass, Luxury Accessories, Modern & Contemporary Art, Music & Entertainment, Natural History, Photography, Pre-Columbian, Rare Books, Silver & Vertu, Texas Art, Timepieces, Vintage Guitars and Western Art, buyers will pay a BP of 25% of the hammer price on the first $50,000 of each lot purchased, 20% on the portion between $50,000 to $1,000,000 and 12% on any amount more than $1,000,000.
The minimum BP of $14 per lot will also continue to apply.
There will be no change in Buyer's Premium for US Coins, World Coins, Currency, Wine and Arms & Armor, which remain at 15% or for Americana & Political, Civil War & Militaria, Comics & Comic Art, Historic Manuscripts, Movie Posters, Space Exploration, Vintage Sports Collectibles and Texana auctions, which remain at 19.5%. In Gallery Auctions, meaning those auctions with sealed bids, mostly bulk numismatic material at Heritage, the BP will also remain at 19.5%.